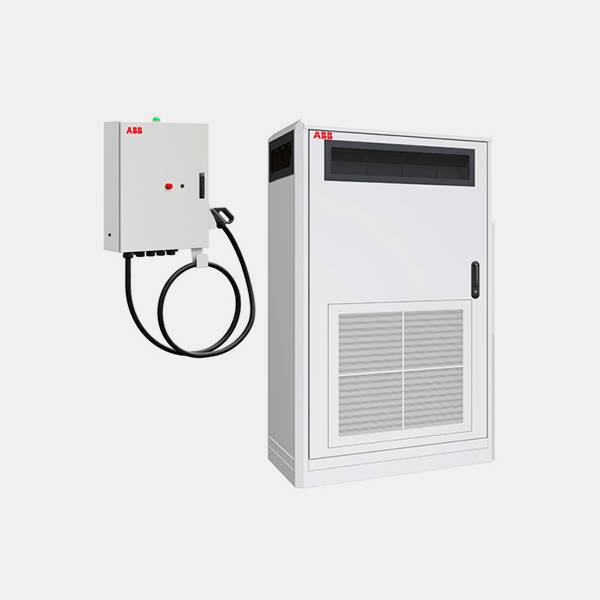 ABB HVC Depot Connector Charging Systems
ABB Heavy Vehicle Charger (HVC) products enable electric buses and trucks to charge at the depot, ensuring flexibility and scalability for every fleet operation that is transitioning to zero-emission transportation.
HVC-C UL depot charging for electric bus and truck fleets
ABB HVC-C UL Depot Charging systems offer a highly reliable, intelligent and cost-effective solution to charge large EV fleets such as buses, trucks and other commercial vehicles.

Sequential Charging
Reducing total cost of ownership is easy using the sequential charging feature offered by ABB's depot chargers. This feature allows up to three depot charge boxes to be connected with a single power cabinet, charging vehicles sequentially over time. The system can follow an embedded, predefined charging process or remote triggers sent by a fleet management system via OCPP 1.6.
The required grid connection is smaller, reducing upfront investments and operational costs
The compact depot box is easy to install at sites with space constraints
Vehicles are charged with high power, maximizing vehicle availability
Optimal utilization of installed infrastructure means lower investments in charging equipment.
Specifications
| | |
| --- | --- |
| Supported charging protocols | CSS, CHAdeMO |
| Max charging power | 100 - 150 kW |
| Max charging voltage | 150 - 850 VDC |
| A/C input voltage | UL: 3-phase, 480Y/277 VAC +/- 10% (60 Hz) |
| Dimensions - Depot charge box | 31.5" x 23.6" x 8.3" |
| Dimensions - Power Cabinet | 79.9" x 46.1" x 30.3" |
| Weight - Depot Charge box | 134.5 lbs (with 7 m / 23 ft cable) |
| Weight - Power Cabinet | 2954 lbs |
OCPP compliant software through ABB AbilityTM Connected Services

Charger Connect: Easily connect chargers to OCPP back offices, over-the-air software updates

Charger Care: Remote diagnostics and resolution, manage service cases, notifications, data export